Labrador has brush with death after home catches fire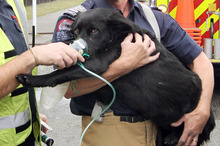 Miley the black labrador had a brush with death today after being rescued from a blaze at his family's Christchurch home.
Firefighters battling the Hornby fire found the beloved family pet lying unresponsive under a bed and suffering the effects of smoke inhalation.
She was carried out of the burning home by firefighter Andrew Corner before he revived her on the front lawn with an oxygen mask.
The poorly pooch was rushed to a vet by St John paramedics, and last night was still under observation but making a recovery.
However, her family are devastated by the blaze which has destroyed their home.
MORE>>