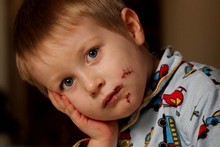 David Oliver's "parent radar" failed to go off when he and his family walked past a large dog sitting with its owner outside a cafe on Saturday.
Moments later he heard growling, followed by his wife's screams - and knew something awful had happened to his 4-year-old son, Ben.
"Leigh shouted, 'He's been bitten,' and Ben came running towards me with blood running down his face, down over his top. He was screaming, absolutely screaming."
The West Auckland family had been to the Titirangi village bakery and were walking home about 2pm when the attack happened.
Bakery?! hum... was the child holding on to a muffin? I'm just looking for a possible reason why the dog 'bite' the child. One possible scenario is that the child was walking past the dog with a muffin, or something else in his hand... perhaps even eating it at the time. The dog wanted the food, and wanted to grab the food, instead found his face.
Ben and his mother were making their way through tables on the footpath outside a cafe when Mrs Oliver noticed the bull mastiff-great dane cross sitting next to its owner, who was at a table.
The owner should have been a lot more aware of what her dog was doing at the time...
Mrs Oliver said the owner smiled so she asked the lady what kind of dog it was. Then it lunged at Ben.
"It happened so quickly. The dog snarled and then leaped at his face like he was prey or something - with a lot of intent and a lot of aggression."
Kids and dogs... the problem is that kids do look like prey for some dogs. Just like a little fluffy dog looks like a rabbit (prey) to other dogs.
Sad when another family has to go through worrying about their next encounter with a dog...
(...)
Ben's parents say there was no warning or indication something was about to happen before the attack
Ben was not provoking the dog or standing too close.
"Ben knows never to touch dogs. He was standing two metres away ... I was standing closer," said Mrs Oliver.
The Auckland Council will complete its investigation into the attack before deciding what will happen to the dog, which was registered.
I hope that they question the owner about the dog's history...