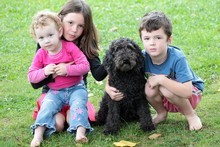 She's a fluffy, enthusiastic heap of good-humoured trouble - but Betsy the poodle's owners never thought she'd lead them all the way to court in a year-long legal battle.
Betsy was simply too much to handle for the proprietors of the kennel where she was sent for her holidays, wriggling free from the operator's arms and escaping into the rural bush for almost a week.
A year on, the operators of Hound Homestay have appealed to the Auckland District Court to avoid paying vet costs and a few hundred dollars in travel expenses and compensation to Betsy's owner.
MORE>>